This piece was originally published in the autumn issue of Radar Magazine, Connecting People and Planet: A Broader View of Health.
At the core of Sustainable Development Goal 3 is the powerful concept of Universal Health Coverage (UHC): that patients, wherever they live, should be able to receive the quality health services they need without suffering financial hardship.
There is increasing recognition that strong, sound, financially sustainable health systems generate a healthier and more productive society. One that can access education and gain skills, enabling participation in a dynamic global economy. Health, in this sense, brings wealth. The success of any health initiative depends on achieving UHC.
How can we define Universal Health Coverage? Building sustainable health systems means achieving effective service coverage: whereby people in need of promotive, preventive, curative, rehabilitative or palliative healthcare receive them, and that the services received are of sufficient quality to achieve potential health gains. To deliver this, health system frameworks must focus across preventative care, affordability, administering, and adherence to treatment.
There is increasing recognition that strong, sound, financially sustainable health systems generate a healthier and more productive society.
Delivering UHC requires addressing multi-faceted challenges through collective efforts by all actors in the health ecosystem and a balanced approach which looks across the health care value chain: from medicine development to service delivery.
Achieving UHC requires a differentiated approach based on capacity and vulnerability to health challenges. Health systems vary across a spectrum from fragile (with weak capacity / willingness to carry out basic governance functions and deliver services) to mature (where there is political commitment to providing health care, strong levels of governance and funding). UHC delivers essential, quality services to all people and communities.
Although they may have access to some health services, more than half of the world's population do not have access to all the essential services they need. Following a coordinated effort by the health community there is now a global agreement on how progress towards UHC will be measured. The WHO and World Bank UHC service coverage index measures progress towards UHC by country.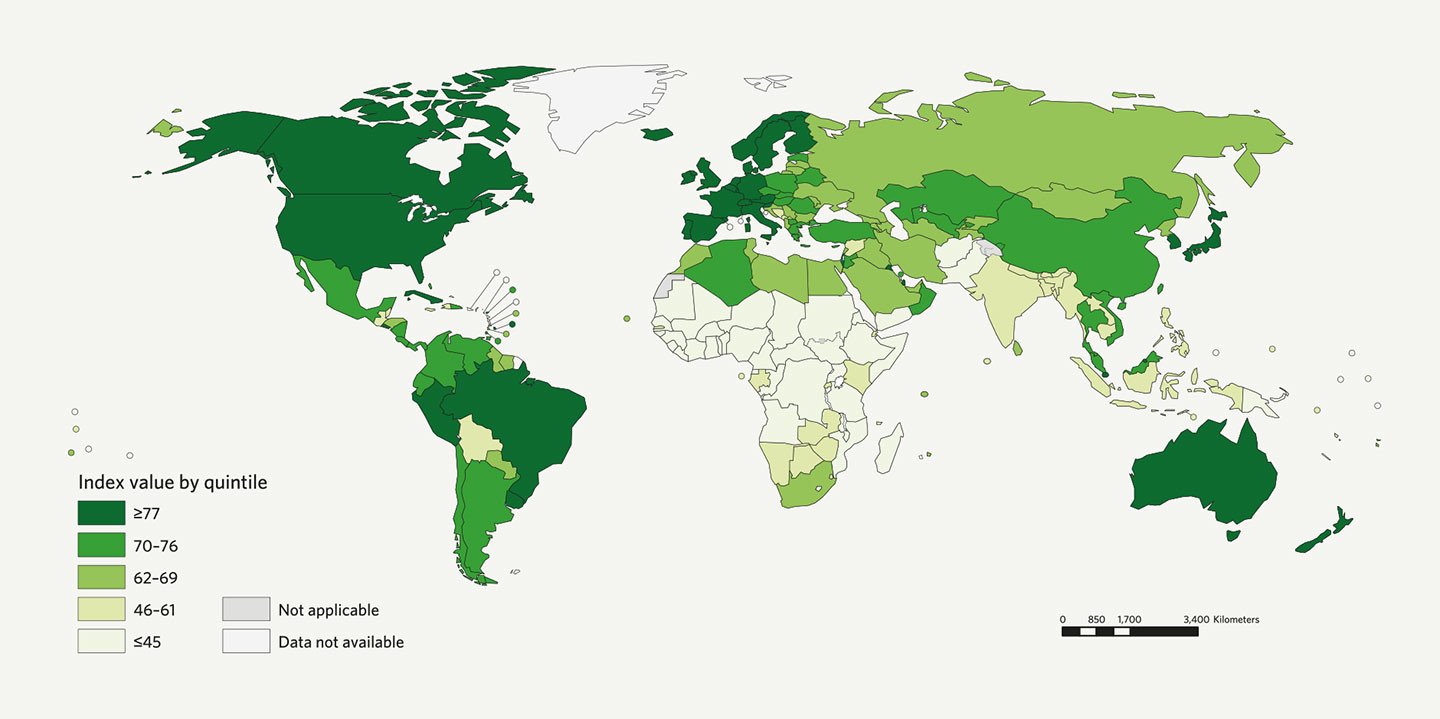 UHC will only be achieved through collaboration by actors across healthcare and the pharmaceutical sector has a strong role to play in strengthening health systems to ensure the effective delivery of its medicines. Other sectors also have a strong role to play in promoting healthier and more productive societies.
Pharmaceuticals
UHC is an opportunity for the R&D-based biopharmaceutical industry to redouble its strong commitment to investment. The heart of this contribution will be discovering new medicines and vaccines to prevent and treat diseases, fostering innovation across medical education, prevention, treatment and care, and sharing its expertise in technology solutions, training of health care workers, logistics and supply chain management, health literacy, media and communications. Beyond this, the industry can also participate in multi-sectoral partnerships that encompass actors working on the environment, transportation, information and communications, and education to support countries to strengthen health systems, create innovative finance models and build the bodies of evidence that will be crucial to implementing UHC.
Food & Agriculture
Nutrition is a critical component of health and wellbeing and an important step towards UHC. Under-nutrition, obesity and diet-related noncommunicable diseases continue to cost individuals, communities and societies. The food and agriculture sector can support UHC by tackling the global challenge of producing, delivering and ensuring access to healthy diets. Additionally, the private sector has a role to play in reaching consumers to encourage healthier eating and drinking behaviours and habits.
Water & Waste Management
Water, sanitation and hygiene (WASH) underpins safe and quality service provision for achieving UHC. Safe and reliable WASH services are essential to the functioning of health facilities, enabling safe health delivery, quality care and infection and prevention control. For example, ensuring all women have access to safe care during childbirth is made possible by WASH. The private sector has a role to play in providing facilities with access to water sources, sanitation and water and soap for handwashing.
Education and Media
Education is a key social determinant of health. For example, comprehensive sexual education is critical to reducing maternal mortality, ending the AIDS epidemic and ensuring universal access to family planning services. Effective education is also critical to train and support frontline health workers, doctors, policymakers and researchers. Increasing numbers of media, technology companies are recognising the large opportunity for promoting health education.
Transportation and Logistics
Supply chain management is a critical enabler of UHC. The capacity to forecast, store, transport and distribute medicines is essential to ensure patients have access to the services and medicines they need. For example, poor supply chain management can result in stock-outs, expiry of medicines or delivery of sub-quality medicines, which ultimately incur a cost health systems. The private sector can provide solutions and services to optimise the process of delivering health services and medicines to communities.
Finance
A major barrier to UHC is out-of-pocket spending. The finance sector has a role to play in facilitating mechanisms to ensure patients do not pay for medicines out of pocket. Financial institutions engage in efforts to support financing mechanisms that contribute to increasing access to finds for the poor.