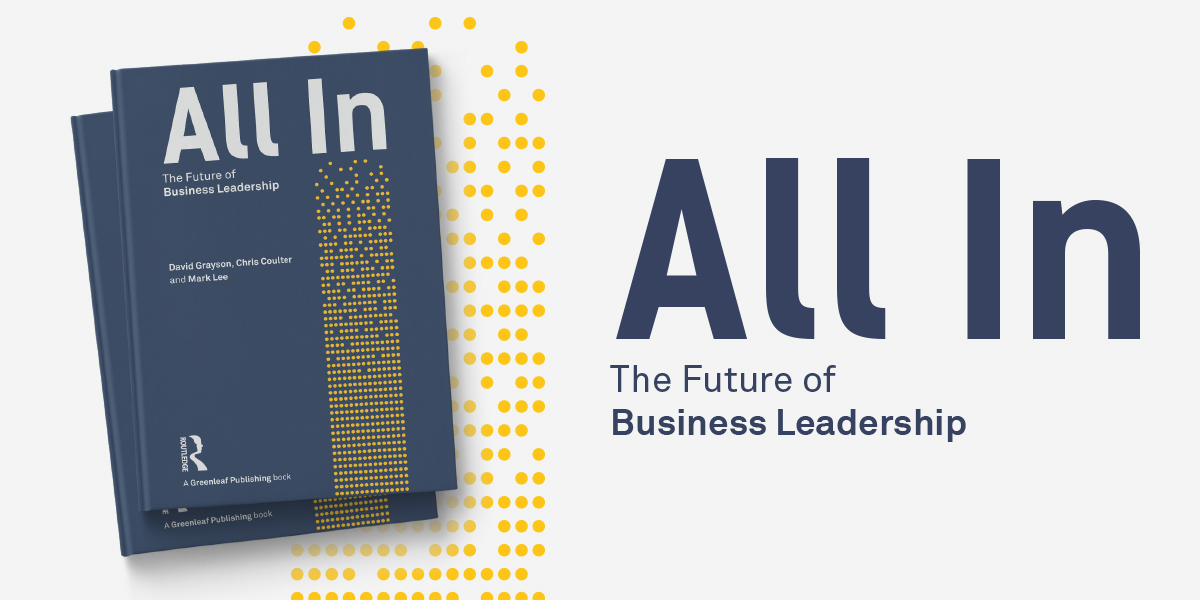 By David Grayson, Chris Coulter and Mark Lee
In June 2018, we stood on the main stage at Sustainable Brands 2018 in Vancouver to give the first presentation of our book All In: The Future of Business Leadership, which had launched that same morning. We like to think we gave an enthusiastic summary of the book that we had been working on for the previous 15 months (you can decide for yourself here).
While writing took 15 months, it was a book 20 years in the making, as it drew on two decades of the GlobeScan/SustainAbility Leaders Survey (1997–2017) and the collective wisdom of all who had participated over that time period. But it was also very much about the future and what we believe will be required of business to help create a more just and sustainable economy by 2030.
In the two years since that Vancouver launch, the three of us have presented All In to business audiences in over 25 countries on every continent except Antarctica. We have also done numerous podcasts, webinars, and radio interviews to spread the word that businesses can no longer be hesitant or half-hearted about embedding sustainability. They have to go All In.
Multilingual Introduction of the Book
To celebrate the second anniversary of the book, we are delighted to make available free the Introduction to All In in French, German, Italian, Mandarin, Brazilian Portuguese, and Spanish, plus the original English version. In doing this, we are indebted – and grateful – to partnerships with our publisher and with CSR Europe, NOIMA in Spain, WTO GoldenBee in China, and the numerous colleagues who supported the translations.
We and our partners hope that, by making what is essentially an executive summary of All In available in this way, we can help more businesses and their stakeholders understand the case for embedding sustainability and how to do so. We also hope it might encourage publishers elsewhere to consider editions in their own languages. Already we are pleased to announce a Korean edition for 2021.
As businesses and the rest of society start to emerge from the COVID-19 lock-down and think about adapting, surviving, and hopefully, in due course, thriving, the widespread mantra is #BuildBackBetter. The notion embedded is that we must not return to how things were pre-pandemic, but instead plan an economic recovery that addresses the greatest sustainability challenges.
Already, governments of all political complexions worldwide are signalling that recovery should emphasize green jobs, rapid progress to a net zero carbon world, protection for bio-diversity – and, as underscored by the now global protests for racial justice that emerged in the wake of the killing of George Floyd by Minneapolis police, much more focus on inequality and discrimination, which interviewees quoted in All In cited as a challenge equal to global warming.
The All In Framework
Twenty-four months since publication, for all the world has evolved, we are convinced that the five leadership attributes for going All In for sustainability that we set out in 2018 are even more valid and urgent today. Those attributes and associated actions are:
Defining a Purpose which is authentic, inspiring, and practical, which explains how the business produces profitable solutions to the problems of people and planet, and which ensures the business does not profit from doing harm.
Having a Plan for sustainability which increasingly merges with and becomes the overall corporate strategy – as Unilever has now achieved after ten years of its Sustainable Living Plan with the articulation of its "Compass" for the 2020s.
Creating and maintaining a Culture which is ethical, responsible, accountable, open, transparent, engaging, and truly empowering – in which sustainability is a fundamental stage-gate criteria for pursuing innovation or not, and where innovation drives sustainability.
Developing the mindset and skills required for Collaboration such that the organization can identify and optimize participation in existing or new and relevant partnerships with other businesses and other parts of society as needed to overcome the systemic challenges inherent to sustainability.
And, finally, Advocacy, by which we mean speaking out and speaking up for outcomes that favour and reward more sustainable and equitable outcomes – advocacy that is clearly all the more urgent today to support the #BlackLivesMatter protests and the global need for greater fairness and wholesale commitment to tackling inequality in all its forms.
We hope you will help us spread the word about the availability of the overview of All In in different languages and help many more businesses to go All In for sustainability.